Graphic Novels to Consider for your Middle School Classroom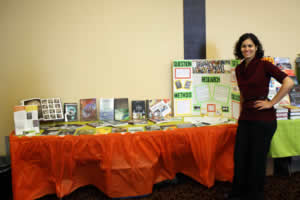 I recently presented at the Minnesota Reading Association Conference in Brainerd, MN. While there, I met lots of other teachers who were interested in my research on graphic novels and wanted to know what kinds of graphic novels they could bring into their classroom. So, I decided to write a post dedicated to them!
Here are just a few recommendations I have for graphic novels that my middle school students enjoyed and you should seriously consider bringing into your middle school or high school classroom!
As I continue to read and research graphic novels, I will post more recommendations. :)
Previous Posts
1. Graphic Classics: Edgar Allan Poe (4th Ed)
2. Rapunzel's Revenge by Hale, Shannon Hale, and Nathan Hale
3. A Wrinkle In Time: The Graphic Novel by Hope Larson
MORE Graphic Novel Recommendations
American Born Chinese by Gene Luen Yang
Summary: Yang intertwines the stories of three different charactres into one amazing graphic novel. Meet the characters: Jin Wang discovers he is the only Chinese-American student at his new school and has to learn how to make his way; the Monkey King of Chinese fables seeks a place in heaven but is not welcomed; and Danny dreads his counsin's Chin Kee's annual summer visit. Check out the graphic novel to see how these three characters come together.
Age: 12 and up
Lexile: 530
The Odyssey adapted by Gareth Hinds
Summary: Hinds does a phenominal job bringing Homer's classic tale to life in this graphic novel. The opening scene shows the gods and goddesses atop Mt. Olympus discussing the fate of Odysseus, who has offended Poseidon and is paying the price. Help your students understand the complex story that is The Odyssey with the aid of a visual connection to the text.
Age: 12 and up
Lexile: 840
Anya's Ghost by Vera Brosgol
Summary: Anya is a typical, self-conscious girl embarassed by her family, confused about her body, and crushing hard for a boy in her class. When she falls down a well, she never imagined she would meet a friend much less a century-year old ghost.
This fabulously spooky story is great for teen girls.
Age: 12 and up
Lexile: 300