Redo your laminate bookcase and make it something you're actually proud of!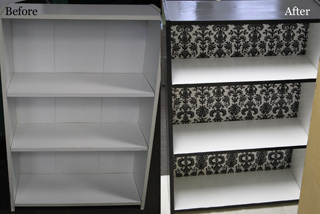 I searched high and low trying to find the best sources for doing a laminate bookcase makeover. I love DIY projects and couldn't resist the chance to fix up my ugly laminate bookcases in my classroom. I have five of them and they were showing signs of wear, desperately needing to be fixed up.
So, after much research and consultation with the more experienced DIYers, I discovered that I could in fact paint my laminate bookcases and ultimately make them something I am actually proud of. Check it out!
Materials:

1/2 a roll of wrapping paper per bookcase (this is a rough estimate and is entirely dependent on the size of your bookcase and the size of the wrapping paper)
scissors (or exacto knife if you have one)
power sander (for speed) or regular sandpaper
bucket
water
Elmer's white glue
sponge brush or small paint brush (1", 1.5", or 2" brush)
bookcase(s)
paint and primer in one (use Behr's black paint-and-primer in one; expensive but high quality and worth it for me to only have to do one coat)
paint brush

Directions:
Step 1 - Purchase a patterned wrapping paper that fits your personality. I found a black-and-white one at Michael's at about $2.99 / roll. We used about 2 rolls for the three bookcases we redid.

Step 2 - Take the desired bookcase(s) and remove any shelves and brackets. Store the brackets safely in a plastic baggie (so you don't lose them like I have a tendancy to do).

Step 3 - Place the wrapping paper carefully in the bookshelf and create a crease where you need to cut. Carefully cut the wrapping paper so it will fit the back of your bookshelf. Set the wrapping paper aside for now.

Step 4 - Sand tops, sides, and front edges of each bookcase to allow the paint to adhere better. Then dust it off or vaccuum it to clear any debris.

Step 5 - Mix Elmer's Glue and Water in a bucket. With the bookcase laying on its back, brush the mixture onto inside back of the bookcase and carefully place the wrapping paper inside, watching for any lumps and folds. Allow a few minutes to set.

Step 6 - Paint tops, sides, and front edges with primer / paint in one.

Step 7 - Allow at least 24 hours (or more if it is in a damp area) for the bookcase to dry completely before putting any books or decorations on it.

I love the way my refurbished bookcases look. Bonus: even my middle school students thought they looked "cool." I hope you enjoy your as much as I have enjoyed mine!